Rotterdam, March 9th 2020: Innovative leasing, trading and aircraft component & part-out specialist, APOC Aviation, hosted an unofficial visit from Dutch Prime Minister, Mark Rutte, at the weekend.
"APOC Aviation has a reputation for being an entrepreneurial business

Max Lutje Wooldrik

Founder & CEO
APOC Aviation was selected as one of four Dutch businesses chosen for a private tour every 18 months, and CEO Max Lutje Wooldrik was proud to showcase their new aviation storage and operational facility.
"The visit formed part of a private fact-finding initiative with Prime Minister, Mark Rutte" explained Max Lutje Wooldrik. "Our discussion focused on the entrepreneurial approach and success strategies deployed by APOC Aviation since the Company was founded just five years ago, and what we are doing now to further improve, sustain growth and move forwards in this challenging environment."
The Prime Minister was specifically interested in the functionality of APOC Aviation's proprietary software 'Alicanto'. "At APOC we believe in doing things differently," says Max Lutje Wooldrik. "Our guiding principle is to leave nothing to chance, so we have devoted a great deal of investment and time into the development of our best-in-class IT platform.
"'Alicanto' drives leasing and stock management to optimise revenues and our parts inventory is updated every 5 seconds in real-time. We're also upgrading our existing customer portal with one-click AOG logistical solutions and this will streamline and simplify an area of flight operations where timing is critical."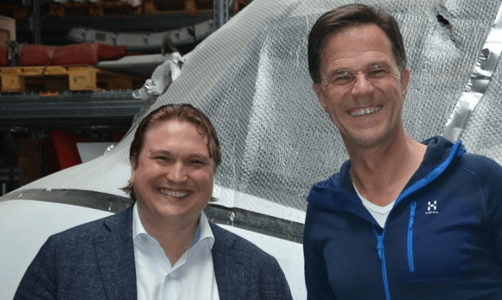 APOC Aviation is extremely proud to be chosen for a ministerial visit which appreciated that 2019 was an award-winning year for the Company. The Antea Award 2019 for 'Entrepreneur of the Year' was awarded to CEO, Max Lutje Wooldrik acknowledging the Company's outstanding performance in 2019; he was also chosen by Airline Economics to win one of the '40 Under 40' Awards for 2019; as a business, APOC Aviation was nominated again by Deloitte for the 'Technology Fast 50 – 2019' achieving recognition once more as one of the fastest-growing technology companies in the Netherlands.
"APOC Aviation has a reputation for being an entrepreneurial business" continues Max Lutje Wooldrik. "We've never been slow to innovate and bring new ideas to the marketplace. To succeed in the world of aviation you need a highly focused vision for the future. I am really proud of our successful crowd-funding initiatives which have generated investment capital for the business, our best-in-class IT platform, and our new facility where we have tripled our inventory space to further streamline the business and sustain exemplary service levels. This year we'll also be expanding our global footprint in Asia and the US with dynamic plans for spares hubs to serve our airline customers.